WHAT´S THE NEW TREND "INFINITY POOLS" IN OVERFLOWING POOLS?
Infinity pools are the new trend in overflow edge pools. Infinity swimming pools are known for their infinite horizon or lost horizon. For the best results, this type of edging requires clear views of the horizon. Otherwise, you won't get the effect of an infinity swimming pool.
This effect occurs when the water flows over the pool wall without any coping behind the overflow as the water is collected in a lower channel that is at a much lower elevation than the edge. One ideal option for this is our Urban series.
This creates an optical illusion making it look like the pool does not retain the water falling over the wall. This is because the water surface is in perfect alignment with the horizon.
It can be done on one, two, three and even four sides; however, the most common is just one or two.
The effect is greater the higher the pool is with respect to the views of the horizon. Truly fascinating results can be achieved outdoors looking towards cliffs or valleys, rooftops, penthouses or overhung pools.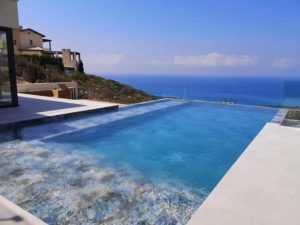 What is an infinity pool?
Pools with infinite edges or infinity pools are the epitome of sophistication in swimming pool design. As the name indicates, an infinity pool seems to extend endlessly towards the horizon.
This illusion is created with intelligent design getting the water to flow over the edge making it seem as though the pool merges with the surrounding landscape.
Whether facing sea views or mountain scenery, infinity pools offer an unbeatable sensation of continuity with the environment.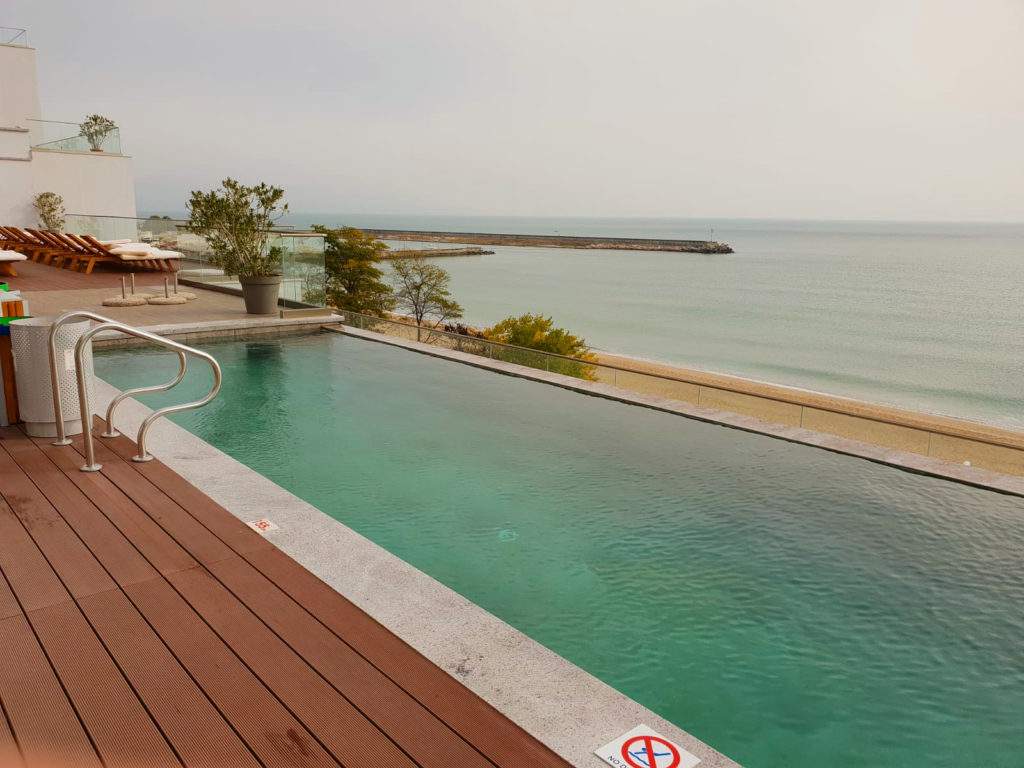 Advantages of having an infinity pool in your home
Infinity pools are very much appreciated by tourists who love aquatic environments given that they combine the experience and enjoyment of water with relaxation and integration with the landscape, creating a feeling of freedom towards the outside world.
This is even more magnified in large pools. That's why this type of edging unique to infinity swimming pools is chosen for hotels, campsites and resorts and even residential settings.
But this is not something exclusive for big buildings, as many private owners bet also on this trend. The unique effect provides differentiation and increases the value of the property.
Some of the many benefits of infinity pools include:
The outstanding look: infinity pools are visually impressive, offering an atmosphere of real peace and beauty.
Integration with the landscape: the design allows the infinity pool to harmoniously merge with the environment, providing an incredible view.
Added value for the property: due to the design and luxurious feeling they offer, infinity pools can significantly increase the value of a property.
Design versatility: infinity pools can be designed in a variety of shapes and sizes, adapting to individual specifications and preferences.
High-quality materials: such as extruded stoneware and porcelain tile, materials that guarantee high resistance and durability as well as an elegant finish.
An efficient filtration system: the overflow edge of an infinity swimming pool works as a filter, helping keep the water clean and crystal clear.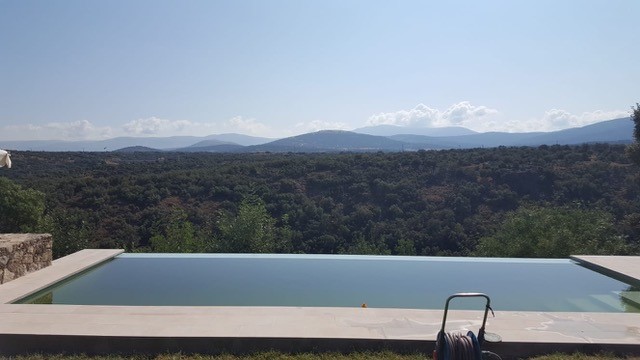 Designing pools with infinity edges
The key to achieving this endless effect is a precise design. The water seems to flow over a carefully designed edge that's strategically hidden from view.
Plus, one of the most important decisions is choosing a place to build it as infinity pools integrate better with panoramic views where the horizon line can merge with the edge of the pool.
On the other hand, the use of infinity edges made of extruded stoneware and porcelain tile in construction is fundamental to implementing the perfect design.
It's high quality and resistant material which provides a polished, sophisticated and perfectly integrated finish, whatever the desired look may be.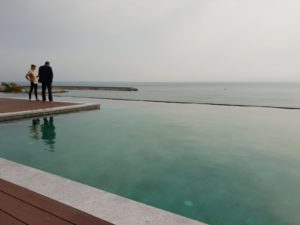 Materials to build infinity pools
When building an infinity pool, the choice of materials is crucial and will be decisive in the final look and durability.
To this end, extruded stoneware and porcelain tile are the ideal choices due to their resistance to chlorine and sun bleaching. These materials also offer non-slip finishes which guarantees safety around the pool.
Extruded stoneware and porcelain tile by Gres de Aragón offers a wide range of finishes and colors for absolute customization of your infinity pool.
Plus, these materials perfectly blend in with the scenery to reinforce the illusion of a pool with no edges.
Infinity pools are the perfect balance between luxury and nature. They offer unforgettable experiences with views that seem to extend to infinity.
With a meticulous design and the right materials such as extruded stoneware and porcelain tile by Gres de Aragón, these pools can be a reference for sophistication, relaxation and style.
Photos of infinity pools

Infinity Pool Collections
Gres Aragón has its own brand for ceramics pool called ACEPOOL® offering all special and basic pieces to solve any kind of pool edging, either not overflowing with skimmers, overflow finnish system or infinity… .
For infinity pools, there is a standard straight step piece which comes in 30, 60 and 120 cm to create an overflow edge on the desired wall. Used with corner cove pieces, it will create a gentle overflow to minimize noise and splashing.
Pools built with ACEPOOL® ceramic pieces by Gres Aragón are safe, hygienic and can solve any architectural suggestion creatively and with high-quality finishes.
ACEPOOL® finishing ceramic pieces by Gres Aragón are manufactured by extrusion, made with porcelain tile for water absorption below 0.5% not to mention high mechanical resistance, which means they're resistant to any forces on the pool basin, are easy to clean, and resistant to water treatment products for cleaning and maintenance. One recommendation for pool basins is our Ocean series.
They also pose no problem when used with marine water, saline treatment systems or mineral medicinal water.
Safety is guaranteed against falling in an infinity pool (whenever the installation is done properly) given the class 3 non-slip certification pursuant to the pendulum under UNE-ENV 12633 or class B/C as per DIN 51097.
Regarding health safety, the rounded shapes used in intersections allow an easy cleaning and avoid pathogen proliferation. If a higher protection is required, BIOKLINKER® technology is the best choice, as it adds anti pathogen properties by using an additive before the firing of ceramic pieces. These anti pathogen properties are tested according the standard JIS Z-2801:2010 (ISO 22196), certifying a decrease of 99% of deposited pathogens in 24 hours.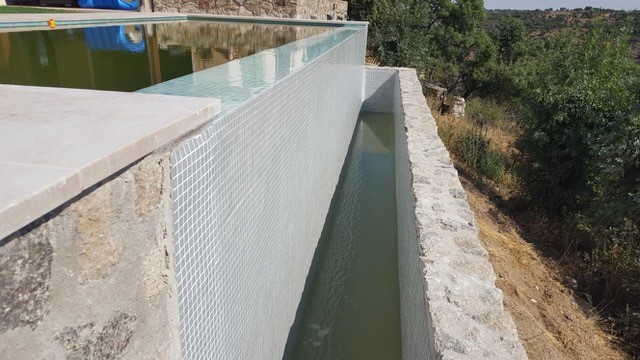 Rounded shapes are also an enhanced safety guarantee during use, because they are designed to avoid injuries, taking special care in junctions, by the existing specific range of pieces, to solve it in a safe way.
Thanks to Klinkjet® technology, it is possible to join technical features mentioned above with the best and trendy design. It also enables high resolution reproducing materials, however they are not recommended to use in aquatic facilities because of a low resistance (wood, marbel, stone…).
By using Klinkjet® technology it is also possible to decorate all functional parts of the piece, with a high quality finishing pieces. There are even rigid and flexible grids for curves in ceramic with the same design as the rest of the pieces, in order to increase the quality of the pool finish by eliminating the typical strips in other materials that clash with the whole.
José Manuel Grao Blasco
Contract and Innovation Manager