A staircase is an architectural element present in many design projects. It's a comfortable and efficient way for human beings to manage differences in level. Of the most common materials used, ceramic stairs are often chosen for any interior design or exterior architectural project for any type of use. From staircases for private homes and staircases for terraces and pools to squares, parks and urban flooring all the way to hotels and restaurants.
All types of special stair pieces
The inclusion of special pieces such as ceramic step treads with sets of finishing pieces like risers, stringers, tread covers and skirting boards has become essential to any construction project. With these ceramic pieces, architects and interior designs are committing to integration and esthetic continuity in their designs. In recent years, the requirements, standards and technical demands have increased meaning not only esthetic quality is needed but also technical characteristics like the high resistance and durability provided by ceramic.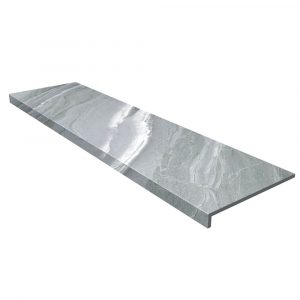 Stair step treads
From a small clinker step tread with a rounded profile and minimalist design to today's large-size digitally imprinted porcelain step treads with finishes suitable for use indoors and outdoors.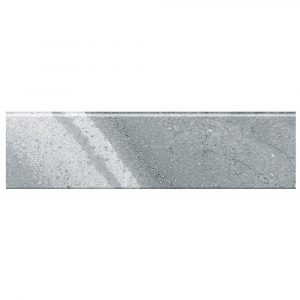 Stair skirting boards
A large variety of skirting boards to follow the esthetic look of the staircase along the walls and other complementary structures.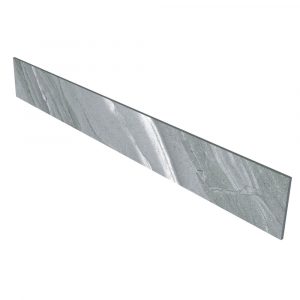 Stair risers
A riser is the vertical front piece of the tread no one steps on. A wide range of risers to turn step treads into unique, uniform pieces for integration in all types of projects.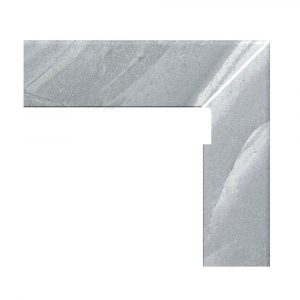 Staircase stringers
Skirting for stairs that accompany the tread in an esthetic way to create continuity. Single-piece stringers for right and left sides in different tones and textures.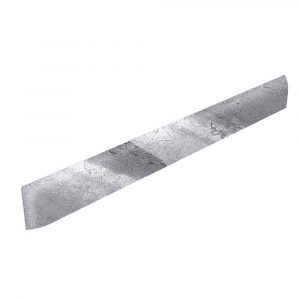 Step tread cover
Tread covers to keep the sides of the stairs from being exposed. Straight and rounded finishes on both sides for inclusion in your projects.
RIGHT ROUNDED TREAD COVER

Characteristics of ceramic step treads
What are the main characteristics of Gres Aragón ceramic step treads?
DESIGN
Stone, marble, cement, wood and an endless number of designs thanks to digital printing technology which makes our ceramic pieces capable of providing almost any look. Plus, they can be perfectly combined with our interior and exterior base tiles. Design continuity guaranteed.
ONE-PIECE
Our step treads are made in single pieces. This makes them more durable since they are extruded and not glued (joining ceramic pieces), optimizes the look (seamless) and makes for faster installation on site. Our step treads are rectified with a perfect beveled finish to guarantee the utmost dimensional stability.
SUSTAINABLE
Porcelain step treads are made with raw materials like clay and water. The extraction and production processes are environmentally-friendly, recycling up to 100% of the water used to manufacture them and with 45% recycled content. Sustainability and environmental respect are key values for Gres Aragón.
HYGIENIC AND ANTI-BACTERIAL
Our step treads offer the greatest hygiene and are easy to clean and maintain. Pursuant to standard ISO 22196:2011, our porcelain range has an R>2 bactericide efficacy rating which equals a reduction of 99% of all bacteria.
LONG-LASTING
They resist wear, scratching, corrosion and chemical attacks.
IN & OUT FINISHES
Our step treads come in different finishes to meet exterior non-slip requirements or feature smooth finishes for interior use.
UNALTERABLE
In comparison with other materials against the passing of time, moisture and inclement weather for excellent maintenance.
A VARIETY OF SIZES
From 30 to 120 cm long and... they continue growing! (we've made them up to 180 cm).
A WHOLE RANGE OF ACCESORIES
Our step treads can be combined with a large range of special pieces that complement them such as base tiles to create esthetically even areas indoors and outdoors.
CUSTOMIZABLE
In certain cases, we can adapt to small or large dimensions, XXL formats as well as round and straight finishes to avoid cutting and to adapt to all interior design and decoration budgets found with today's projects.
VERSATILE
Although the main use is as staircase step tread, our step treads can also be used as pool edging or finishing as well as drip edge flashing for windows.

Indoor and outdoor step treads
At Gres Aragón, we meet all the technical and esthetic needs of any project seeking to include ceramic step treads in their design. Our solutions include ceramic step treads with features for indoor or outdoor use such as smooth and non-slip finishes available in our collections with versatile and cutting-edge esthetic and technical characteristics.