Ceramic flooring is the best flooring option for any type of decorative and/or achitectural project. Its great esthetic versatility and high-performing features make it a practical, functional and designer solution.
Extra quality. Extruded Ceramic Floor Tiles
At Gres Aragón, all of our ceramic floor tile collections are produced by extrusion which allows us to create highly-resistant, hygienic pieces with different non-slip finishes which are 100% sustainable.
Characteristics of ceramic floor tiles
What are the main characteristics of Gres Aragón ceramic floor tiles?
RESISTANCE
Extruded ceramic floor tiles have extra resistance against wear, abrasion, impacts, chemical substances of all kinds and even frosts and sudden changes in outdoor temperature.
EXTERIOR AND INTERIOR
Its resistance to external factors means this type of ceramic floor tiling is perfect for exterior and interior areas (including high-traffic areas subject to great wear).
DURABILITY
The high quality and ultra-resistance make ceramic floor tiles – especially extruded ceramic tiles – into materials that remain unaltered over time with the very same technical and esthetic features as the very first day.
EASY MAINTENANCE AND CLEANING
Due to the low porosity and impermeability, ceramic floor tiling is less likely to absorb moisture or stains meaning it requires less maintenance and is easier to clean than other types of flooring such as wood or natural marble.
HYGIENE
Extruded ceramic floor tiling is highly hygienic and the ideal choice for places requiring extreme cleanliness such as kitchens and bathrooms. Thus, it's also the perfect choice for pool areas, terraces and patios.
DESIGN
The Gres Aragón production process makes it possible to manufacture pieces in different formats, sizes, reliefs, decor, colors... The esthetic possibilities for floor decoration are endless.
SPECIAL PIECES
Extrusion manufacturing allows creating different formats, shapes and reliefs for ceramic floor tiling meaning Gres Aragón has an extensive catalog of special pieces such as drip edge flashing, gutters, overflow edges, handrails, skirting boards, etc.

Types of ceramic for flooring
At Gres Aragón, we have a wide range of flooring and ceramic floor tiles for interiors and exteriors. These collections include finishes as versatile as wood, marble, stone, cement, country and hydraulic effects.
Discover the perfect combination of the technical features offered by extruded ceramic floor tiles and the look of wood with our wood effect series.
This is a material that combines with very different styles from minimalism to Nordic style and even in combination with a vintage style.
Faithful to a natural look, imitation stone ceramic floor tiles give any place they decorate character. The tones and finishes make it the perfect choice for country-style areas.
It's ideal when looking for a timeless "canvas" that is neutral and suitable for all types of styles.
What does country-style ceramic floor tile really mean? This category includes various types of ceramic tiles.
The latest trends in interior design continue using hydraulic-style tiles as one of the most special choices for floor decor.
Outdoor ceramic floor tiles
How to choose outdoor ceramic floor tiles? Terraces, patios, outdoor swimming pools…
The safety, easy cleaning and look are the main factors to bear in mind when choosing outdoor ceramic floor tiling.
Ceramic tiles or flooring is the best option as the characteristics meet all the requirements for exteriors. Plus, Gres Aragón collections are extruded ceramic tiles meaning they offer unbeatable characteristics as far as the required non-slip rating in addition to the necessary durability and resistance to the external factors that may affect them.
They're also the perfect choice because of all the special pieces. The extrusion process makes it possible to create exterior ceramic floor tiles requiring special pieces such as edges, drip edge flashing, rounded corners, steps, etc.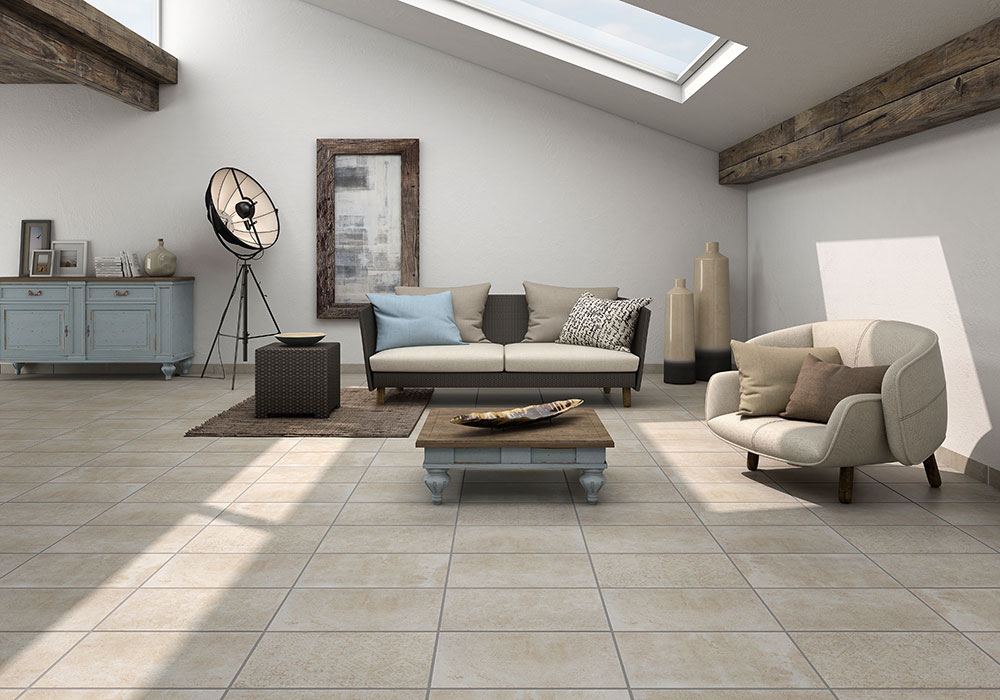 Indoor ceramic floor tiles
How do you choose ceramic floor tiles for interiors?
It all depends on the type of room to be decorated with the ceramic floor tiling. For example, some places like bathrooms have a lot of moisture; therefore, it's important to choose non-slip ceramic floor tiles. Hygiene and ease of cleaning must be taken into account in a kitchen.
Ceramic floor tiles: the best choice
Gres Aragón outdoor and indoor ceramic floor tiles.
At Gres Aragón, we have a wide range of 100% sustainable ceramic floor tiles for interiors and exteriors and even for high-traffic areas that become heavily worn.
Why choose ceramic floor tiling? What are the main benefits of ceramic floor tiles?
The main benefits of ceramic floor tiling or flooring lie in the technical characteristics. This material has features that make it the best choice for the flooring in any architectural project.
Extruded ceramic floor tiles are highly resistant, easy to maintain, hygienic, fireproof and offer unbeatable beauty. What's more, they're highly versatile as far as shapes, finishes, colors and sizes. On the other hand, they also offer non-slip finishes which is essential for outdoor areas such as terraces and swimming pools as well as indoor wet areas such as bathrooms, saunas and covered pools.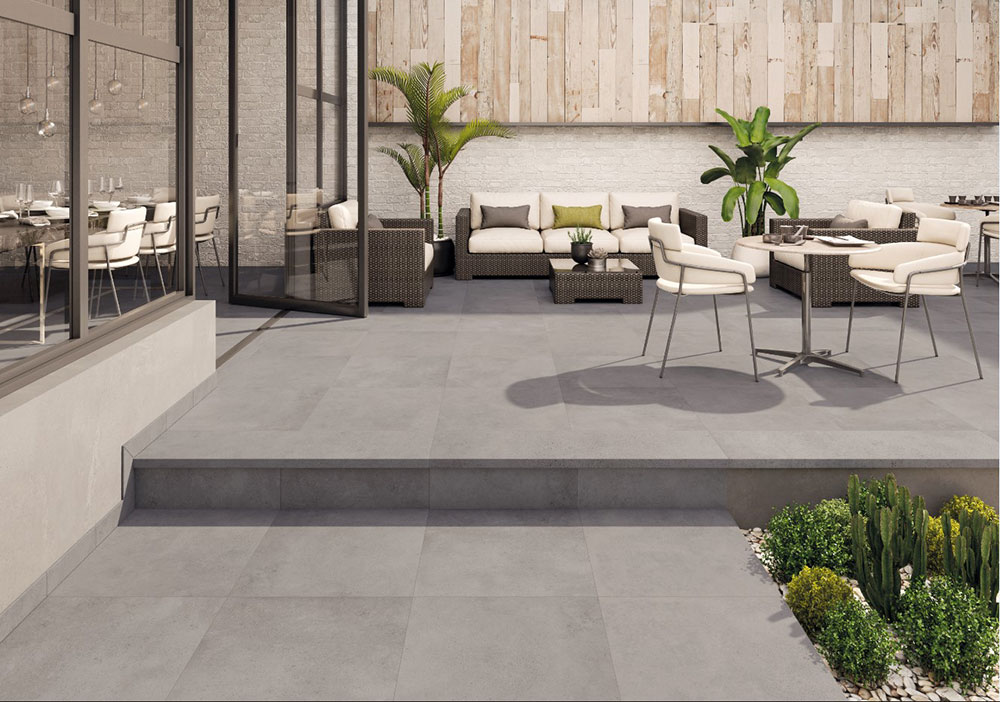 How do you install ceramic flooring?
The most important thing when installing ceramic flooring in any type of decorative and/or architectural project is relying on the best construction professionals and materials and focusing on the technical and esthetic requirements of the different areas to choose the most appropriate ceramic floor tiling for each of them.
If you need some help choosing the best Gres Aragón extruded ceramic floor tiling, please contact us by email at gresaragon@gresaragon.com
If you'd like to take a look at the pricing for our ceramic floor tiles for interiors or exteriors as well as our line of additional pieces, please complete the form
form which you'll find in the contact section. Remember to provide all the required data.
You can also write to us directly at: gresaragon@gresaragon.comA member of our Sales Department will get you all the information available very soon.