The offering of Gres Aragón ceramic wood faithfully reproduces the naturalness, texture and warmth of natural wood with all the advantages of extruded porcelain tile. Combining esthetic beauty and technical functionality, our catalog of imitation wood flooring responds to the latest trends in the world of design for use in projects in all areas.
In line with today's trends in architecture, our porcelain wood is perfect for industrial-style projects as well as more relaxed areas in pure Scandinavian style and even for projects with a rather colonial personality as wood-effect flooring has immense personality. The choices are extensive and extremely varied given the excellent design quality we're known for and which makes our imitation wood ceramic flooring the most accurate reproduction possible.

Characteristics of imitation wood floor tiles
Gres Aragón imitation wood floor tiles are known for their durability and high resistance, not only to impacts, scratching and even stains and daily use, but also to sudden changes in temperature, frost and, of course, heat meaning it's the most versatile and suitable construction material for all types of projects.
From a private home with pets to a high-traffic public area such as a bar, restaurant or shop, the possibilities are unlimited and the quality is guaranteed thanks to our meticulous manufacturing process.
All of these technical values apply to our catalog with carefully selected designs that transmit the serenity and timelessness of this noble material. For all of these reasons, our porcelain tiles have become the most widely-used and highly-valued choice of architects and interior designers when creating their projects.
Wood-effect flooring: successful in any atmosphere
Wood-effect flooring is a very attractive and efficient alternative for all types of public and private projects and areas. Besides the advantages as far as the esthetic variety, range of tones and formats, this type of material is suitable for both interiors and exteriors, which multiplies the installation possibilities and gives a natural and cozy feeling to all types of rooms.
Plus, and unlike natural wood – which requires constant maintenance and even special treatments -, imitation wood flooring is a simple solution to maintain and easy to clean as well as highly versatile as no specific care is needed meaning it remains in perfect conditions just like the first day even when installed in outdoor and high-traffic areas.
Outdoor imitation wood flooring
If you'd like to give your open-air areas a warm style, Gres Aragón outdoor imitation wood flooring is the ideal solution. Due to its zero porosity and zero water absorption, our range of extruded outdoor wood-effect porcelain tile is highly resistant to thermal shock and frost in addition to featuring a C-3 non-slip finish. This means it can be used outdoors with guaranteed safety against possible slips and falls in areas like terraces, balconies and pools anywhere in the world.
And because we have our own horizontal extrusion manufacturing technique, we can offer all the special pieces necessary for stairs, arbors, patios, terraced roofs or home entrances to give any space requiring an overall harmonious design added value.

Indoor imitation wood flooring
When the idea is to make an area comfortable, the wood look is no doubt a wonderful ally. That's why Gres Aragón offers indoor imitation wood flooring of excellent technical quality which brings authenticity and invigoration to any room in a home such as a living room or bedroom as well as a bathroom or kitchen, perfectly matching any type of interior design, even in shops and restaurants.
Read more
Our offering of imitation wood flooring for interiors includes four highly suggestive colors: gris, beige, natural and marrón. They all faithfully reproduce natural wood and its unique character. This means the most appropriate tone can be chosen for different decorative styles without giving up on the beauty and naturalness of wood.
For even better service, we complement our lines with a selection of special pieces like skirting boards, step treads, corners, stringers and tread covers in different formats to adapt to all kinds of project needs.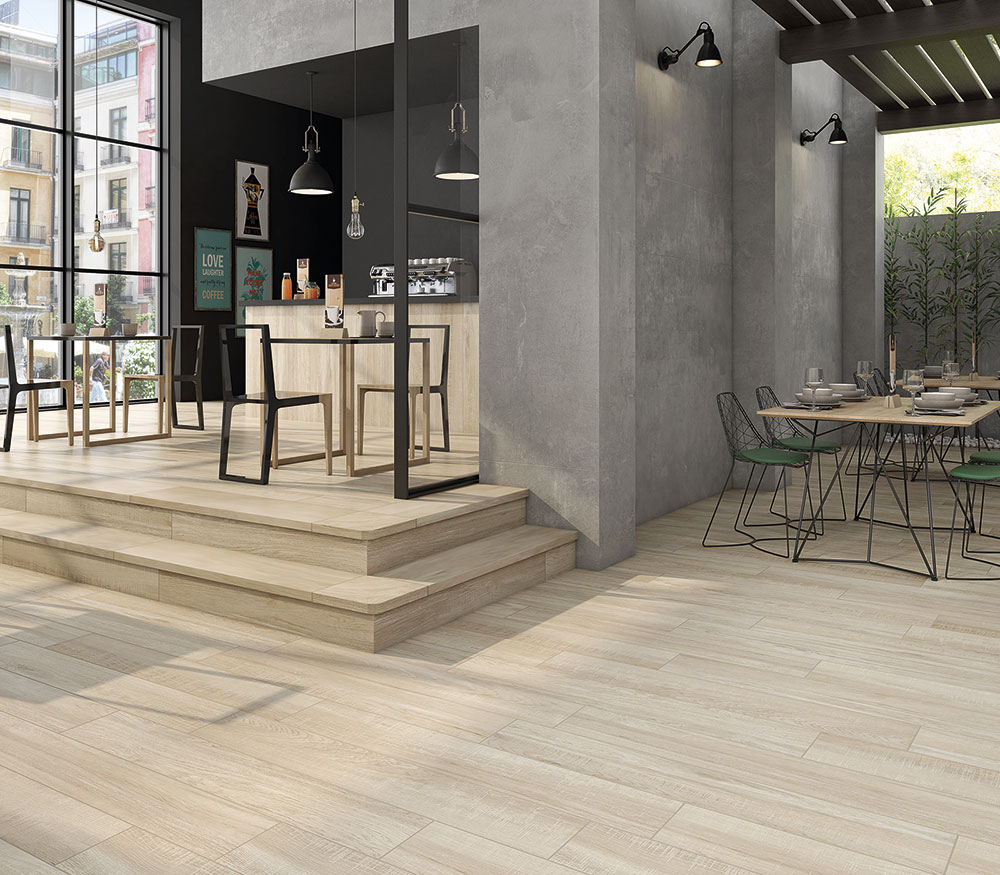 Imitation wood flooring prices.
If you'd like prices for our imitation wood floor tiles for interiors or exteriors as well as our line of additional pieces, please complete our form
form which you'll find in the contact section. Remember to provide all the required data. A member of our Sales Department will get you all the information available very soon.

Imitation wood flooring projects