Manufacturers of ceramic solutions
GRES ARAGÓN provides quality, innovative and healthy sustainable ceramic architectural solutions in collaboration with customers and opinion leaders all while creating stable employment and high added value.
It offers ceramic products for: flooring and cladding exteriors and interiors; covering building skins; tiling, edging and surrounding pools; and equipping facilities with special hygiene and safety requirements.

It contributes trendy, modern wood, marble, stone, cement, country and hydraulic-inspired designs. It stands out among the competition as it offers solutions with three-dimensional, attractive, modern, safe and long-lasting special pieces including seamless step treads for stairs which is an architectural element that enriches the look and functionality of a home.
With constant innovation in products and processes, it provides optimal service all while adapting to the market demands with products featuring a modern look, enhanced safety and trendy designs. 80 years of experience back us.
GRES ARAGÓN® porcelain and country stoneware in various formats, special pieces for an ideal finish, for all types of atmospheres and finishes for esthetic continuity indoors and outdoors.
ACEPOOL identifies pool products. Complete systems that provide a technical solution for specific issues with a non-slip finish for safety, a look that integrates with complete projects, easy maintenance and immense resistance to guarantee the longevity.
FAVEKER® offers extruded ceramic ventilated facades for renovation work or new construction and singular projects. Achieving more sustainable, efficient and comfortable buildings with more thermal and acoustic insulation in addition to equipping the building with materials that are healthy for people and for the environment, 100% recyclable systems with a minimum of 40% recycled materials during manufacturing.
BIOKLINKER® identifies the products with antipathogen properties that guarantee the utmost hygiene in industrial atmospheres with special requirements as well as household environments.
The commitment reflected in the Strategy that guides is focuses on sustainability in the broadest sense of the word: generating more value with less impact. Business sustainability to guarantee continuity and updates for customers and to meet their real needs as well as enhance the quality of our products and service. And environmental sustainability, contributing to the much-needed decarbonization through the products and production processes used.
In addition, we digitally enhance our factories and logistics, marketing and sales management all while maintaining our commitment to creating quality jobs and helping all those who collaborate with us; we boost the people within our organization and our contribution to social responsibility is based on the United Nations Sustainable Development Goals (SDG).
Mission, Vision and Values
Find out about our Mission, Vision and Values in this document.
GRES ARAGÓN has developed a management system unifying Quality, Environment, Energy and Prevention, which integrates single procedures for the organisation's actions. It is based on the principles and commitments reflected in the following politics: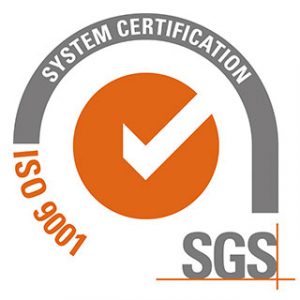 The main aim of GRES ARAGÓN is to satisfy our customers all while respecting the environment and fostering sustainability. That's why we've implemented an integrated Quality and Environmental Management System which is certified pursuant to standard ISO 9001 at all of our production centers and our logistics warehouse in Onda.
GRES ARAGÓN has its own laboratory at its facilities to control the quality of all raw materials and finished products pursuant to ISO 10545 standards for ceramic tile testing. These tests include water absorption, mechanical resistance, glazed finishes and slippage. The quality of the pieces is controlled in all phases of the process and all control equipment used in the process and at the laboratory are subject to periodic checks and calibration.
Moreover, all ceramic products are tested annually at accredited external laboratories in order to guarantee compliance with all mandatory requirements of the Technical Building Code (Spain), CE Marking (Europe), UKCA (United Kingdom), CCC (China), KUCAS (Kuwait), QM-SASO (Saudi Arabia) and other required certification systems in our export markets.
The GRES ARAGÓN® commitment to its customers means we offer outstanding service based on products of the utmost quality, short delivery terms and the necessary installation advice.
SUSTAINABLE DEVELOPMENT GOALS

As a socially responsible company, we're committed to seeking balance between social wellbeing, environmental care and economic growth.
"Sustainability: More Value, Less Impact"
is the Gres Aragón no. 1 strategic line.
GRES ARAGÓN is committed to the UN Sustainable Development Goals (SDG) as expressed in our Mission, Vision and Values; particularly, the following:
Gres Aragón ensures their cusomers, employers and suppliers the maximum satisfaction by offering high quality and professional service with optimal solutions and innovative products.
Gres Aragón team works together on the different proyects, guaranteeing their success. This requires the collaboration of all departaments, where we are continuously looking for talent.
Join our team! In search of continuous improvement, we carry out selection processes based on diversity of profiles, innovation and talent. Whether you are a student, a recent graduate or a professional, we have positions adapted to each stage of your professional career. With all our profiles we build a team that wants to continue consolidating this business project, meeting the objectives we set ourselves. Our objectives follow strategic lines based on the search for sustainability, digital transformation, progress towards social responsibility following the SDGs and empowering the people in the organisation. We work to meet these goals, always looking for a healthy environment for our employees and encouraging training programmes.