Imitation stone stoneware reproduces the tones and veins in natural stone for the perfect synthesis between esthetics and functionality, faithfully recreating the texture and hardness of a variety of stones like granite, slate and lime. With high standards of quality and durability, this ceramic adapts to interiors and exteriors.
The collections of imitation stone ceramic floor tiles are appropriate for any area from the outside of a private home to a fashion boutique, restaurant or high-traffic public place. The possibilities are endless as the quality of the material is guaranteed throughout our manufacturing process.

Characteristics of imitation stone flooring
Because of its enviable technical characteristics, imitation stone porcelain stoneware is scratch and stain-resistant meaning it's easier to maintain than most stones. It's also particularly hygienic. Although natural stones often require general maintenance and can be complicated to clean (marble, for example), porcelain stoneware poses no problem of this kind as you simply need natural products for proper cleaning.
What's more, the chemical resistance means it can be used in open-air atmospheres. In fact, it won't change even if it enters into contact with acids, household chemicals or pool additives.
Imitation stone flooring types
The offering of Gres Aragón imitation stone ceramic flooring covers different collections inspired by various types of stone that can meet any decoration need by combining the charm of natural stone with the advantages of porcelain stoneware for the collection Tibet or Itaca or the characteristics of clinker with the collection Orión or Columbia.
Imitation stone clinker or porcelain stoneware flooring are the right choice for any decorative need given the wide range of colors and textures available.
Outdoor imitation stone flooring
The collections of stone-effect ceramic flooring to be installed in outdoor areas where it may rain or there are pools may come in a non-slip finish with zero porosity and a low absorption level in order to bear moisture-adverse climate conditions. Thus, the same look can be achieved as with the glossy option yet with the technical characteristics of slip resistance to guarantee the safety of the place where it's installed.
And with our horizontal extrusion manufacturing, we can offer all the special pieces necessary for stairs, pools, patios, porches or home entrances to give any space requiring a homogeneous, harmonious design added value.

Indoor imitation stone flooring
Gres Aragón imitation stone flooring for interiors is suitable for any room in a home (living room, bathroom, kitchen, bedroom…) and for any interior design project from a bar or restaurant to a shop or a hotel. Our imitation stone flooring line comes in different collections meaning we offer a wide range of formats (30×30, 33×33, 33×50, 16×33, 6×33, 6×50, 30×60, 60×60, 60×120) and colors featuring beige, blanco, gris, antracita, aguamarina, jade…
Read more
Our offering of imitation wood flooring for interiors includes four highly suggestive colors: gris, beige, natural and marrón. They all faithfully reproduce natural wood and its unique character. This means the most appropriate tone can be chosen for different decorative styles without giving up on the beauty and naturalness of wood.
For even better service, we complement our lines with a selection of special pieces like skirting boards, step treads, corners, stringers and tread covers in different formats to adapt to all kinds of project needs.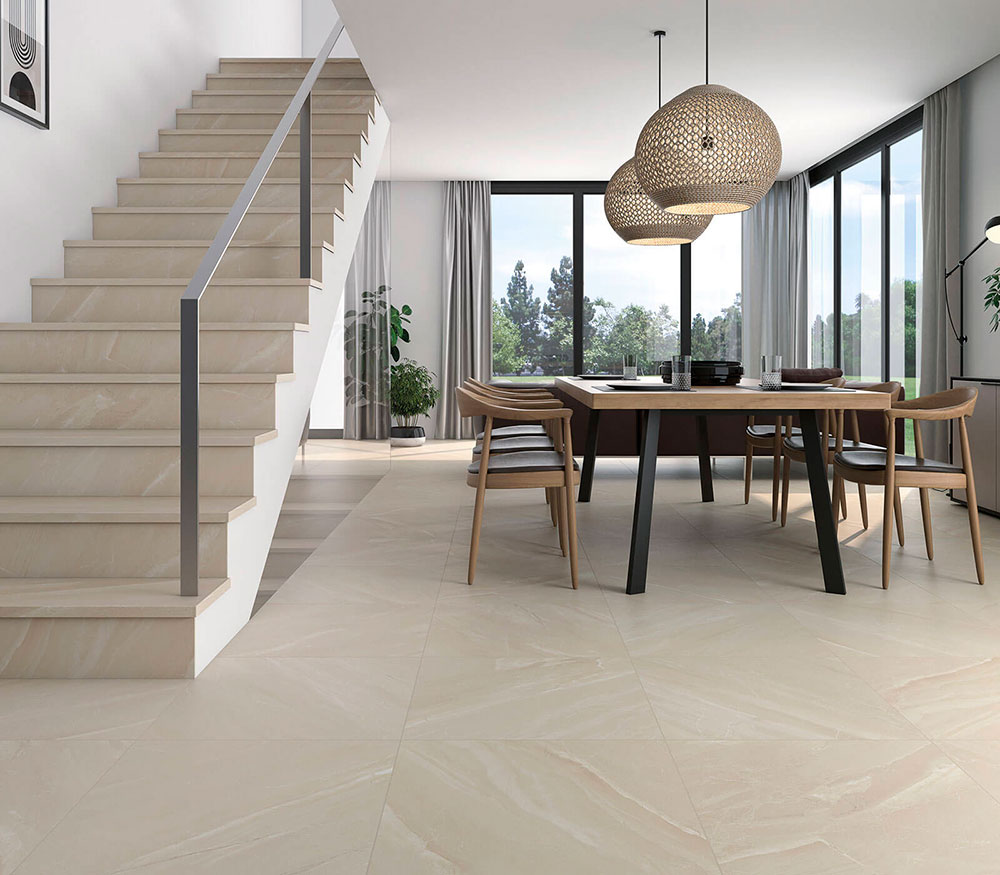 Imitation stone flooring prices.
If you'd like prices for our imitation stone floor tiles for interiors or exteriors as well as our line of additional pieces, please complete our form
form which you'll find in the contact section. Remember to provide all the required data. A member of our Sales Department will get you all the information available very soon.