Very technically demanding, exterior flooring has also gone through an esthetic revolution. With all the major technological progress seen in the ceramic sector, it is now possible to offer a material with immense technical features as well as very attractive designs and extruded stoneware is the most popular among exterior flooring materials.

Characteristics of non-slip outdoor flooring
There are certain requirements outdoor flooring must fulfill in order to be efficient. One of the most important is the non-slip level which is the most important feature to define the safety of any outdoor flooring option. On the scale used to classify the non-slip properties of ceramic surfaces, C-3 is the one with the highest slippage resistance and, therefore, the safest for users of any outdoor floor, whether public or private. To this end, the Gres de Aragón catalog offers a great variety of designs with a C-3 finish in addition to all the resistance and durability features necessary, which makes extruded stoneware the best flooring for exteriors and the most complete construction solution for these kinds of projects.
The best flooring for exteriors
The best flooring for exteriors is ultra-resistant and very long-lasting. Gres de Aragón extruded stoneware for outdoor flooring is resistant to bending, abrasion and sudden changes in temperature; and resistant to impact and wear, which are all essential characteristics for high-traffic outdoor floors. It also offers a very low porosity surface meaning it's resistant to staining and chemicals. All of this means it is one of the most complete materials technically for any exterior flooring not to mention the fact that the ceramic nature of this flooring provides exceptional esthetic features other materials just can't. The possibility of choosing an attractive design such as wood or marble -the natural versions of which are not good enough for outdoor flooring- and significantly improving the technical characteristics of other options like cement and stone -all while offering very natural and ultra-realistic designs- undoubtedly makes extruded stoneware the best construction option for outdoor flooring.
Outdoor ceramic flooring prices
All of these features would not be feasible without a carefully designed manufacturing process developed down to the very last detail which is capable of perfectly combining the technique requirements demanded of outdoor flooring with innovative new alternatives in esthetics and design. This is only possible with the extrusion manufacturing done at Gres de Aragón, which is capable of offering the ideal materials for any exterior flooring. Ceramic has spilled to the outside of homes thanks to constant innovation in developing new construction choices, becoming the top solution for exterior flooring around the world.

Types of outdoor flooring
Some of the different types of outdoor flooring include terrace flooring, patio flooring and porcelain for facades, all areas where the choice of material is crucial. To this end, choosing extruded stoneware will guarantee the success of any construction job as it's ultra-resistant and durable exterior flooring which remains unalterable with the passing of time and in any climate conditions not to mention the fact that it will continue to look just as it did on the very first day all while requiring very little maintenance.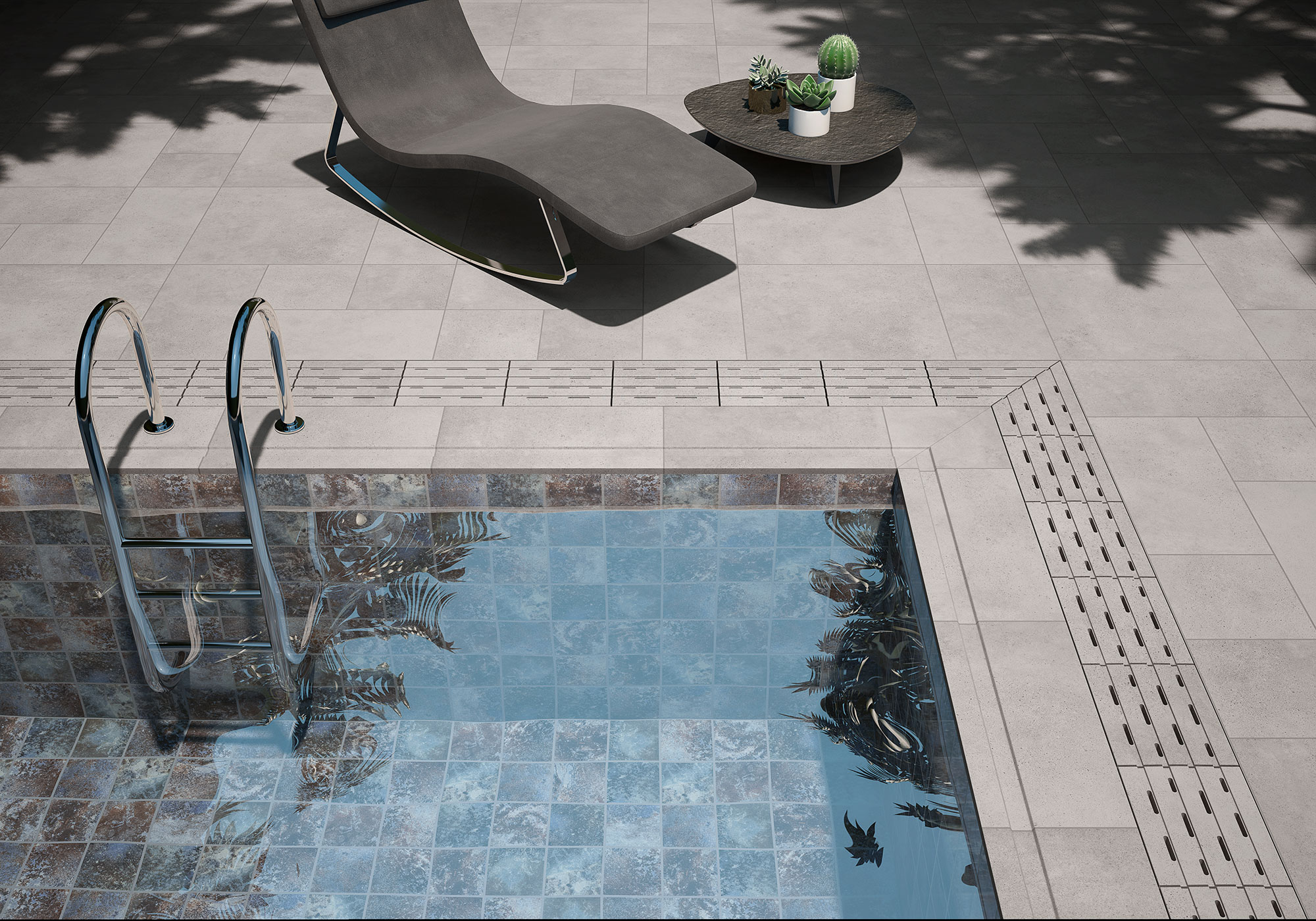 Terraces are nowadays one of the most highly-valued places in homes, bars and restaurants. Thus, the exterior flooring must be tiled with a material that is resistant, durable and beautiful which lasts over time and remains attractive.
Patios have gone through a real revolution with respect to their importance in homes and it is quite common to see them considered in renovation and new construction projects so they are paved with the right materials for their ever greater use and location outside. Extruded stoneware is the ideal material.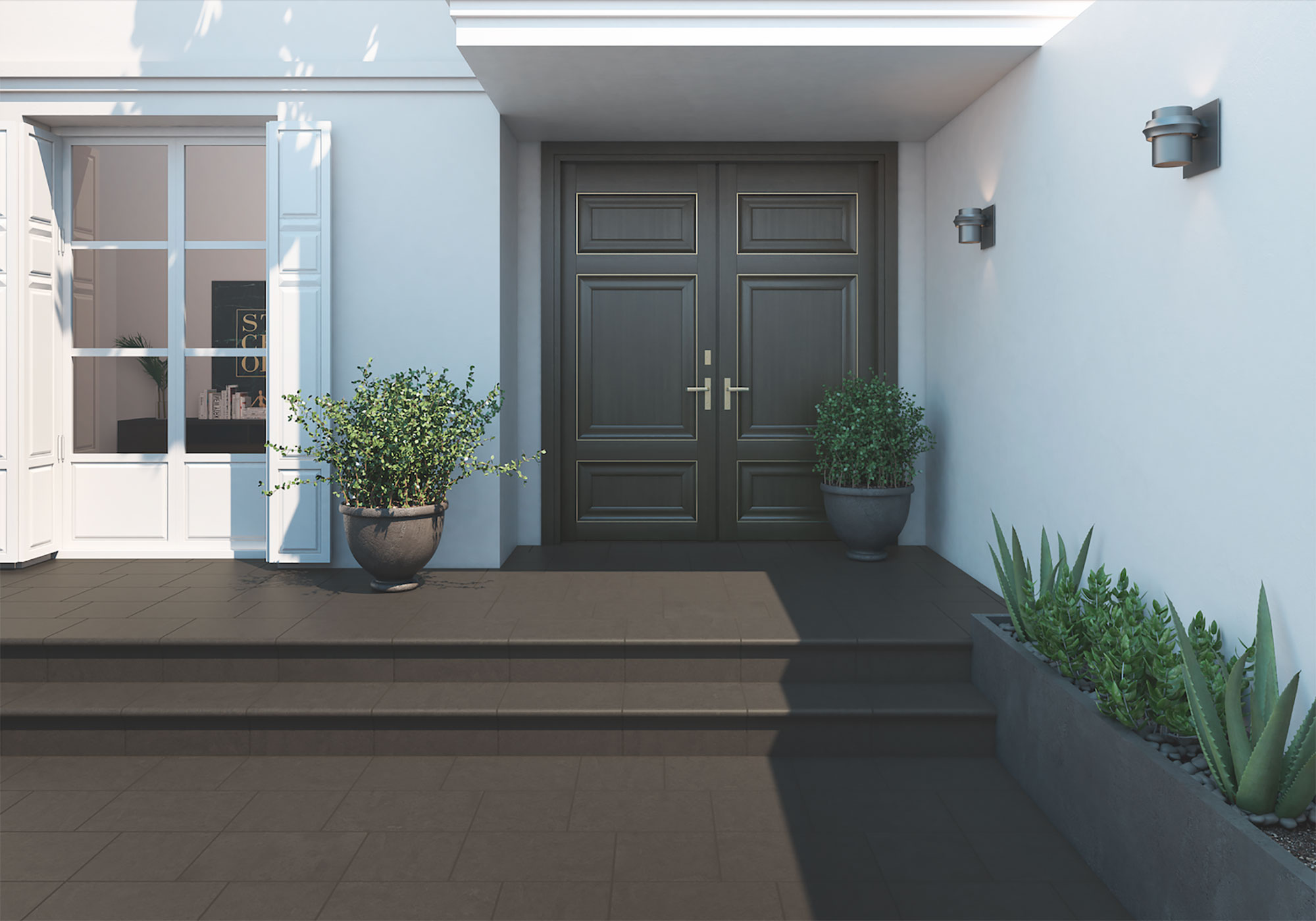 Outdoor non-slip flooring prices
Depending on the technical and esthetic needs of your project, you may need non-slip exterior flooring or another type. Our technical team will answer all your questions about the features of the exterior floor tiling products in the Gres de Aragón catalog. Don't hesitate to contact us here. to get personalized advice on the designs, properties and prices of any of our collections.