MODERN STAIRCASES FOR HOMES
Modern staircases. When designing modern homes, staircases have evolved from being a simple means of connection between two levels to becoming the outstanding stars of home esthetics.
Adding modern staircases to architectural designs not only meets a functional need but it also adds a touch of sophistication and style.
Modern indoor staircases
Choosing modern built-in staircases for homes, whether small or large, often becomes the focus of interior design. With a wide range of styles available, selecting a modern staircase that complements a home design is essential.
Compact spiral staircases or minimalist ones with a straight design are excellent choices for maximizing the space in small homes while floating staircases with glass railings or open staircases with porcelain tile imitation wood step treads can offer the feeling of spaciousness and lightness in larger spaces.
What are the advantages of using extruded stoneware and porcelain tile in the construction of modern staircases for interiors?
The use of extruded stoneware and porcelain tile in the construction of modern staircases for interiors provides a large number of esthetic and technical advantages.
The resistance and durability, along with the variety of textures and colors available, make it the ideal material for any type of modern staircase.
Step treads, which are essential to any stairs, can be comprised of a single piece when extrusion manufactured (one-piece treads). This makes them more durable since they are extruded and not glued (joining ceramic pieces), optimizes the look (seamless) and makes for faster installation on site. It achieves rectified step treads with a perfect beveled finish to guarantee the utmost dimensional stability.
The possibility of personalizing step treads with a wide range of special pieces from Gres de Aragón enables the creation of unique stairs that are full of character. Ordesa collectionto all types of imitation stone, cement with Urban Urban and even the most natural-looking imitation marble with the Marble collection..
Plus, they contribute to the harmony and visual continuity of indoor and outdoor spaces.
What pieces is a modern staircase comprised of?
These staircases, which as mentioned, are architectural elements that are not only functional but are also a part of the esthetics, are comprised of a set of pieces. Some of them are basic and can be found in most staircases; others are rather special and are only found in some staircases.
The complete set of pieces, both basic and special pieces, comprising a Gres Aragón staircase includes: one-piece step treads, baseboards, risers, stringers and tread covers.
Gres de Aragón step treads come in a variety of sizes including 120, 150 and 180 cm, thus adapting to any space and requirement.
The offer is even greater with the possibility of choosing between straight and rounded formats in addition to smooth or non-slip finishes, the latter of which are essential to guaranteeing safety during daily use of the stairs.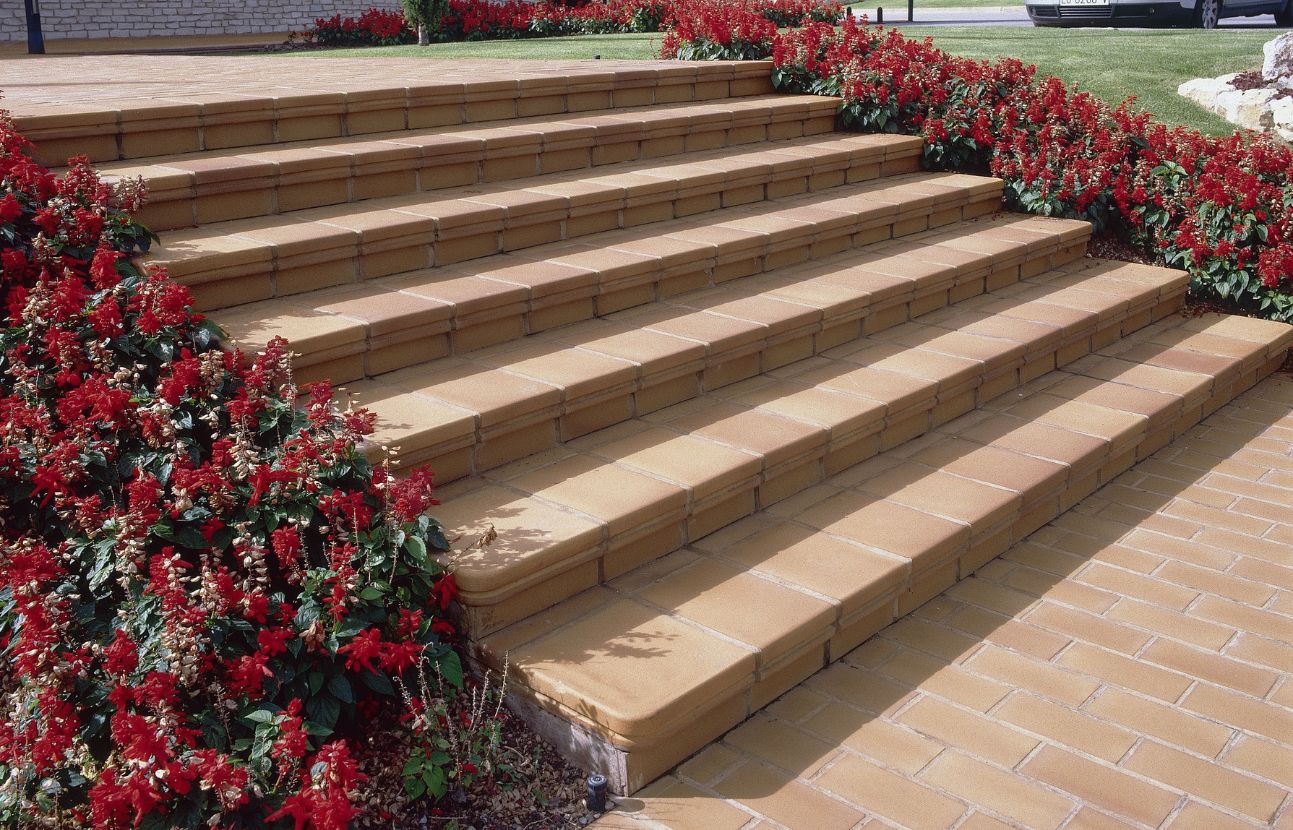 What's more, our range of special pieces makes for the perfect complement to give any staircase that finishing touch.
They include baseboards, risers, stringers and tread covers, all designed to blend in with the step treads and offer an unbeatable functional and esthetic look.
This visual uniformity, which is achieved with the coherence of the step tread designs, allows for seamless transitions between different levels and atmospheres in a home.
Added to all of this, extruded stoneware and porcelain tile are highly resistant to climate conditions, thus enabling an IN&OUT effect that flowingly connects indoor and outdoor spaces.
With a wide range of finishes and colors, the perfect adaptation to any architectural style is guaranteed.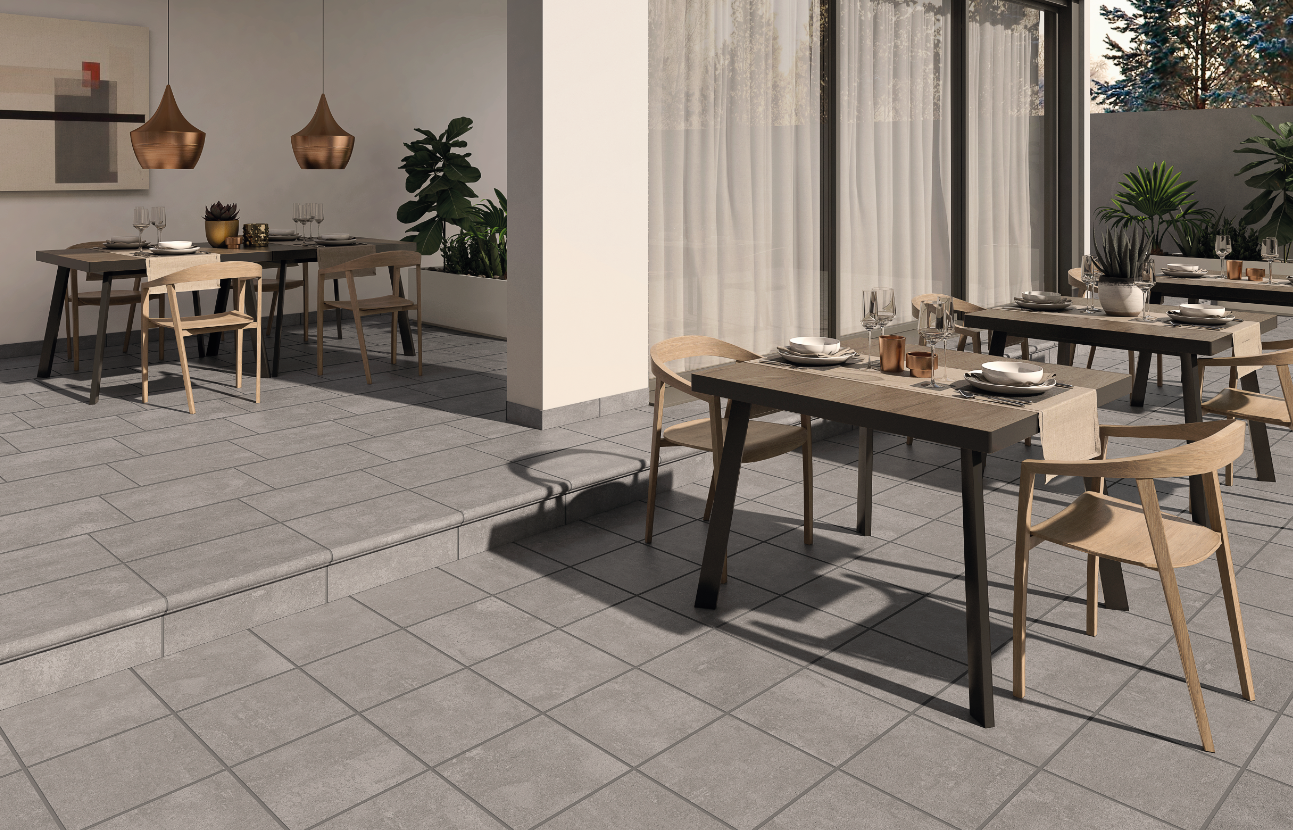 Images of modern staircases
The modern staircases made with exclusive Gres Aragón extruded stoneware and porcelain tile which are featured in many of our projects are examples of how a functional component can be turned into an outstanding esthetic element.
Whether floating staircases that provide a feeling of weightlessness or pool stairs in constant contact with the water, this material proves its versatility and the diversity of design choices offered in our catalog.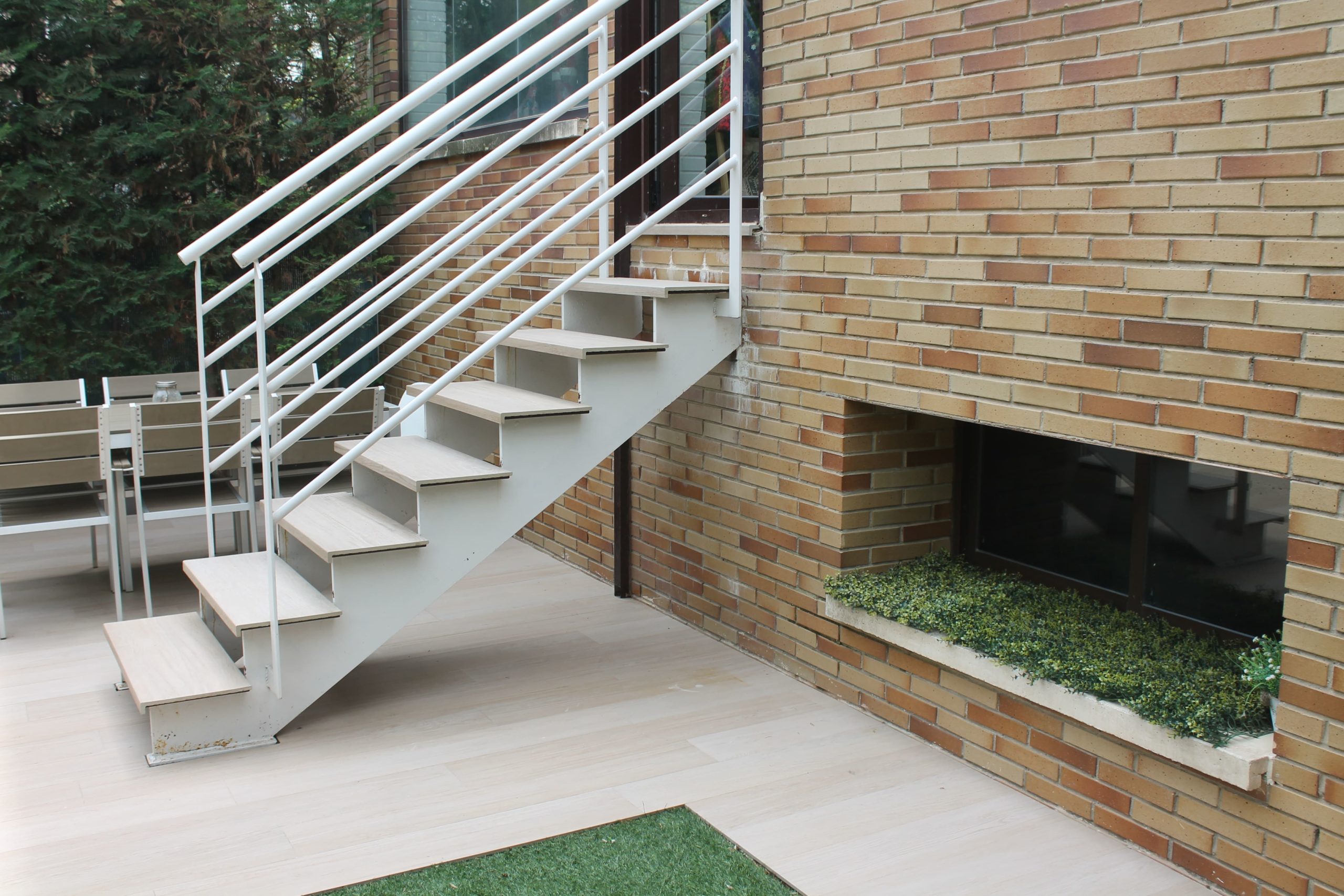 Modern outdoor staircases
Just like indoor staircases, modern outdoor staircases play a fundamental role in a home's look. They must be capable of resisting inclement weather all while being visually attractive.
To this end, extruded stoneware and porcelain tile stand out due to their resistance to wear, stains and slippage which makes them excellent choices for modern outdoor staircases.
The look of modern outdoor staircases can vary from simple and functional designs to sculptural structures attracting all the focus of attention in any garden.
Whether a staircase providing access to a terrace or a staircase leading to a pool, selecting a design that harmoniously integrates into the environment and material that fully adapts to the demands of any outdoor flooring is fundamental.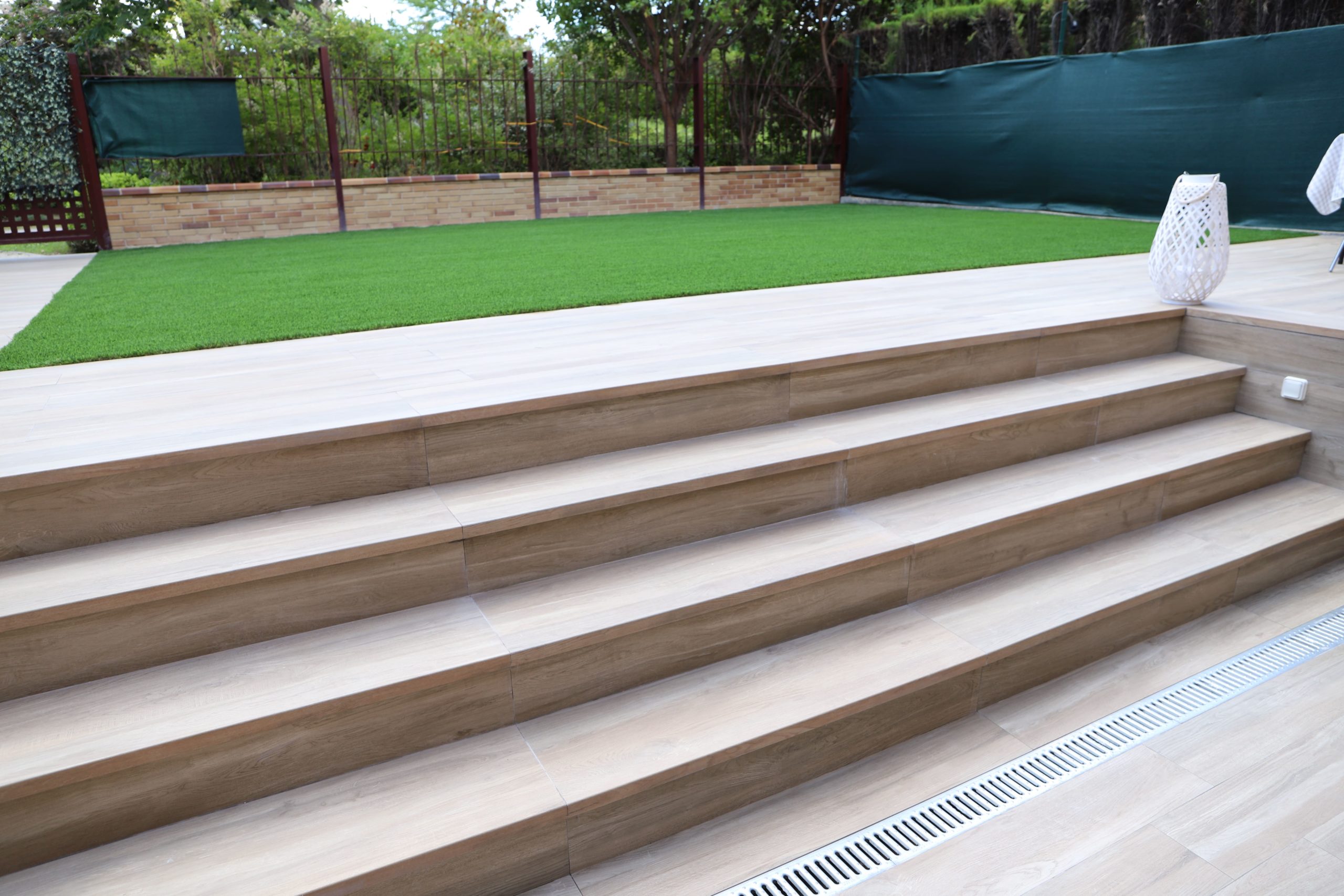 Modern staircase decoration
The decoration of modern staircases can provide a personal touch and add style. The use of LED lights on step treads, choosing glass railings to create a feeling of spaciousness and using contrasting colors and textures can add a distinctive touch to a staircase as can risers from the Retro collection..
Thus, a modern staircase can become much more than just a means for moving between levels: it can be a form of expressing one's personal style and make for a work of art in and of itself.
For more details on step treads, the proper materials and finishing and special pieces, we encourage you to visit the specific page at our website showcasing special pieces for staircases.

There you'll find all the necessary information to choose what best suits your needs.